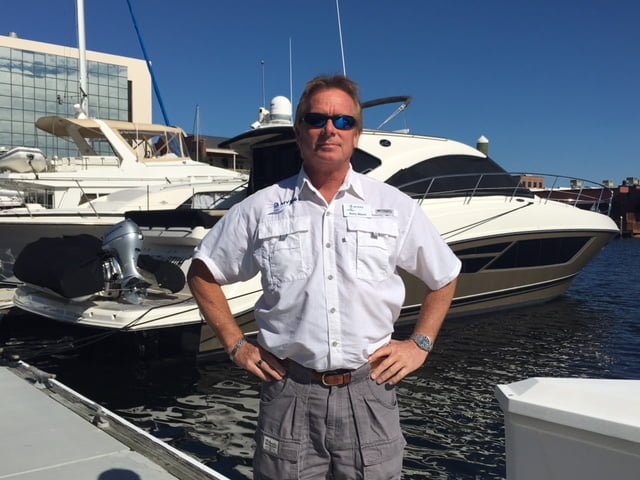 Terry Myers
Licensed Florida Yacht Broker
Office : 1-850-432-5500

Mobile : 850 712-5459
Ihave been involved in boating all of my life. As a young man, I found myself buying, repairing, operating & selling my own boats purely from a hobby standpoint. My love of the water and boating habits led me to become a full-time Yacht Broker & Brokerage Owner in 1995. For over 25 years, I have dedicated my love for boating and a desire to share this dream with all the wonderful buyers & sellers I have come into contact with
We have sold thousands of vessels since 1995 with high regard for what the buyer is looking for as well as my seller's expectations of this selling process. To become a successful Yacht Broker you must listen very closely to exactly what the buyer wishes to do on the water, to help locate the boat that best fits their needs
A seller will expect my knowledge of his vessel to be equal to his own when considering listing his vessel with me. My experience is well versed in selling either power boats or sailboats up to 65′.
Local and National Listings
Captain Buddy Rogers
Licensed Florida Yacht Broker
Office : 1-850-432-5500
Mobile: 850-982-6007
Captain Buddy Rogers is a local boat Captain who is a licensed USCG 100 Ton Master with a sailing endorsement. Captain Buddy has safely logged thousands of trips offshore, in our local waters, the Florida Keys, and the Bahamas over last 30 years. During Captain Buddy's long career, he has specialized in both fishing and scuba diving charters as well as power and sailing yacht deliveries throughout the Bahamas, Florida, Alabama, Mississippi, and Louisiana. He has also logged significant time as a private boat captain. He has also managed the construction of vessels, including his own "Reel Eazy", a 46ft. Newton multi-passenger charter for hire fishing vessel.
Captain Buddy's wide array of experience in the maritime world is very important to his customers because he knows what makes a vessel reliable, safe and a good investment. He understands the concept of the right vessel for the right job and he knows instinctively those small things that will make a good boat, a great boat. Due to his career as a charter boat captain, he is very knowledgeable in Coast Guard regulations, inspections, haul outs, hull inspections, mechanical and electrical inspections as well as operational requirements. He also knows the fun side of boating because, in addition to working as a private yacht captain in the Florida Keys and the Bahamas, Captain Buddy has enjoyed his own sports fisherman to include a Proline Express, Rampage Express, Cabo Convertible and his current 44ft. Sea Ray Sedan Bridge. In the winter months, Captain Buddy enjoys taking his family and friends in search of warmer weather to Key West, Clearwater, and Tarpon Springs for some hard earned R&R…. and searching the local boat markets for his customers.
So if you are selling or buying a vessel, Captain Buddy is the best choice for your next vessel purchase or sell, you not only gain a licensed and bonded sales professional, but a valuable consultant.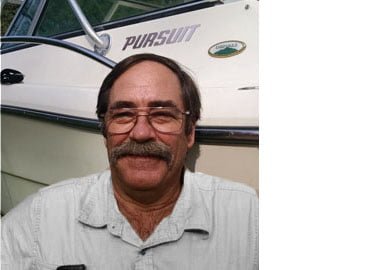 Capt. C.S. ``Chuck`` Grabert
Licensed Florida Yacht Broker
Office : 1-850-432-5500
Mobile: 985-774-8298
It all started at a very young age, fishing the Gulf of Mexico with my father. It developed into my first boat at 13 years old and running the rivers and bayous of Louisiana.  Then working Summers as a mate on a 56′ custom Corporate owned sportfish, where we would take two and three-day trips offshore with customers.  I worked my young adult life in the oilfield which afforded me every other week off to 'play' on the water.  I had the opportunity to lease a small boatyard and managed that for a few years which developed into brokerage sales, where I met a client who wanted to get into new yacht sales and we partnered up.  We sold and serviced Tiara Yachts, Pursuit, and Silverton Yachts.  After a while moved back into brokerage sales, where I sold and delivered yachts up to 75′.  I participated in deliveries from Texas to Jamaica and north from Maryland (my latest), with several from all points in Florida.  I have also run boats in the Virgin Islands.
I purchased a Volvo Penta dealership and operated that along with brokerage sales for several years, and have been certified as a Volvo Penta service tech, along with several other training schools to round out my service experience.
To say I have dedicated a lifetime to selling and servicing yachts and boats would be an understatement.  Almost every client I've ever worked with has called back for buying, selling, or servicing.  I take great pride in working out the details to make the experience as enjoyable as it can be.
I am also a Coast Guard Licensed Captain and currently own a 26′ Pursuit.
Captain Thomas "Tommy" Clark
Licensed Florida Yacht Broker
Office : 1-850-781-3241
Mobile: 504-452-8772
Captain Thomas "Tommy" Clark is a licensed USCG 100 GRT Master Captain with an Auxiliary Sail endorsement and is a licensed Florida Yacht Broker. Tommy's affinity for sailing and boating began as a young boy with his father near the northern shores of the Gulf of Mexico and on the Caribbean waters of Belize. Tommy's philosophy of the sailing/boating lifestyle is perfectly summed up by this quote from Mark Twain … "Twenty years from now you will be more disappointed by the things you didn't do than by the ones you did do. So, throw off the bowlines. Sail away from the safe harbor. Catch the trade winds in your sails. Explore. Dream. Discover."
Tommy acquired his professional boating experience on the water through various charter captaining roles in Belize and delivering sailing yachts from South Florida to various locations on the Gulf Coast. In addition to this, Tommy has accrued thousands of miles of offshore sailing through races and cruising on different sailboats that he has owned throughout his life. This well-traveled experience allows Tommy to offer his clients a wide range of knowledge in various marine trades and advice in several different states, countries, and cultures.
Captain Clark has always had an interest in the maintenance, repair, and sales sides of the marine industry. This includes anything from purchasing boats to repairing/preparing for reselling or even working as a hired marine contractor for full re-fits.
Clients and customers will find comfort and confidence when working with Tommy due to his well-rounded knowledge of several different business worlds. Over the last ten years, Tommy's entrepreneurial spirit and drive have led him to establish and operate numerous small businesses in several fields. This experience allows him to relate to clients and understand their priorities and backgrounds.
Most importantly, Tommy takes pride in the fact that his diverse knowledge and experience ultimately translate to helping the client find the "right" boat. He believes the client should never feel as though they are being sold a particular boat, but instead, that they are being helped and guided in their boating journey. It's imperative to Tommy that his clients feel comfortable, satisfied, and can trust him to do what he says and say what he means.
Our team's extensive boating experience allows us to understand the needs of novice and experienced boaters

Extremely flexible with both our Buyers and Sellers

Over 80 Years of combined Boating Experience

Largest Co-Brokerage Outfit in the South

Completely backed by our dedicated Sales and Support staff

Innovative and Creative Financing available

Inventory for both novice and experienced boaters